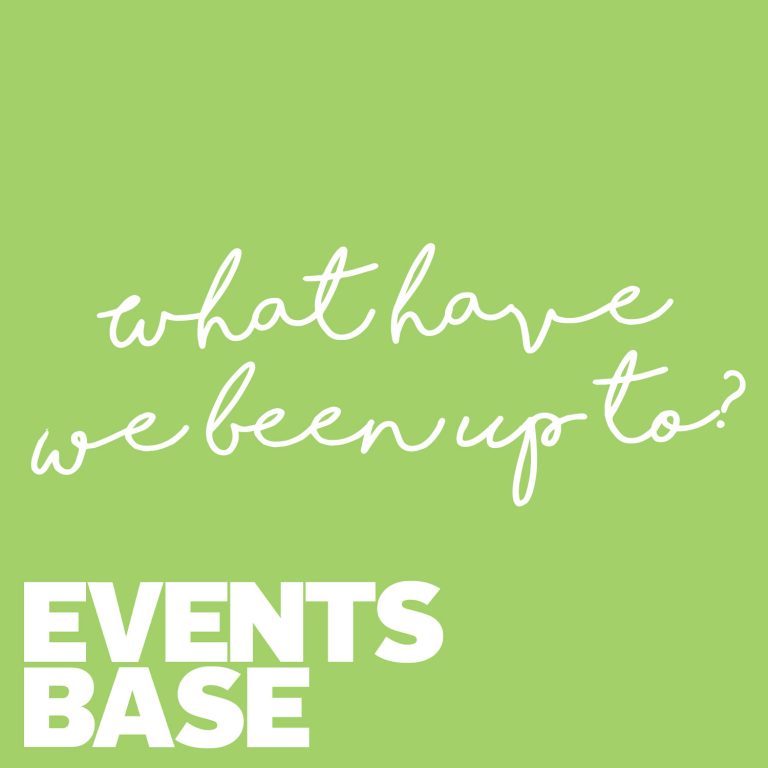 Can't believe it's been 3 months since we went into lockdown. On the one hand March seems like a lifetime ago when the office was buzzing with activity in the run up to EVENTIT and yet on the other hand weeks have been flying in and I cannot believe it's nearly the end of June!
Each member of the team has had their own personal struggles having been thrown into a world of uncertainty and fear. One minute we were huddled over spreadsheets, floorplans and agendas and the next sitting in our respective homes contemplating the future. I think we all did a bit of that naval gazing, grieving for our industry and wondering if we would ever run another event again.
Some had less time to think than others such as Amanda who overnight, like so many parents, became a primary school teacher. Copywriting for the awards website was replaced with teaching basic grammar and spelling. Designing newsletters and social media posts changed to crafts and cookery. Production schedules became lesson plans. We all know that event producers are skilled at dealing with the unexpected, can make last minute changes and are used to paddling furiously behind the scenes while remaining calm, cool and collected on the surface. Yet that is when we have an end date, a timescale to adhere to and a short window by which everything must be achieved. This ongoing uncertainty would challenge even the most organised and level headed individual so I can only marvel at Amanda and others who have kept their sanity through the school term and now face weeks of summer holidays during which they need to find even more things to keep the little darlings occupied…and still no firm decisions on what next term will bring.
Megan, who had just moved back up to Scotland as a freelance event producer, must have spent many an hour wishing she'd had a crystal ball as she may have stayed a few more months in that save, secure, well paid events role in London before going solo! Yet if she had then we would never have had her as an integral part of our team and she would have spent lockdown in the big smog rather than the beautiful surroundings of Edinburgh. Her entrepreneurial spirit may also not have come to the for allowing her to turn her creative hand to making masks for her Etsy business. Not one for sitting with a coffee gazing out the window she is currently run off her feet cutting, stitching and sewing desperately trying to keep up with the orders. A creative through and through – although she never dreamt she'd go from set design to cottage industry!
Young Jessica had to make the last-minute dash back home to Germany. Her carefully scheduled timetable of completing her dissertation while assisting us with last minute preparations for the show……and then its postponement…..were thrown into disarray when she got word that she had two days in which to leave the country if she wanted to spend lockdown with her family. After a surreal couple of days of flight changes and packing she finally reached home just before the closed the regional border. Now dissertation complete amid great commendations she awaits a date to come back to join us again…..if not in person then certainly virtually so she can keep those of us who are of a somewhat older generation up to speed with the latest technology and ideas!
Ruby, like Amanda, was catapulted into a teaching role. Liaising with speakers replaced by daily negotiations with youngsters. Organising suitable AV and technical requirements brought down to a search for somewhat more mundane resources such as TVs and iPads. Arranging accommodation and travel changed to discovering local food suppliers and creating an 'at home' restaurant and entertainment hub. Yet despite her new challenges, true to character, Ruby has still been busy networking, delving into new technologies for streamlining virtual events and finding solutions for her clients. We just hope she still has time in that busy diary to once again join our team for EVENTIT in September!
Shona, who I have mentioned in a previous blog, has been as industrious as ever. Furlough most certainly has not involved lazing on the sofa watching Netflix but rather a busy schedule of physical and mental activity. Daily walks, cycles and community circuit training have been coupled with a host of online learning sessions. Shona has grasped with both hands this opportunity to discover all the things she has not had time to do over goodness knows how many years when she has been engrossed in the delivery of countless events. She has relished the chance to visit other people's exhibitions, panel discussions and education sessions, albeit virtually. A luxury she has simply not had for as long as she can remember. While most of us breeze in and out of these occasions Shona approaches them with the same enthusiasm as she does everything in life, noticing even the tiniest details enabling her to report back on some of the extraordinary things our industry colleagues have been able to achieve under these difficult times…….oh yes and she also picks up on some of the mishaps that might befall them too!
It's been lovely to keep in touch with everyone during this period, to check in on their new lives, find out about their new-found skills but I miss them all. EVENTIT is a community and that starts first and foremost with our team. We couldn't do without them. They are the inspiration, the backbone and the heart and soul to what we do and I can't wait until we are all back together pouring over plans and running around madly checking on last minute details.
Hamish and I have certainly done our best to keep the company ticking over during lockdown working away in our respective home offices keeping up to speed with government legislation, planning how best to support the team going forward, updating our budgets and forecasts, developing our marketing plan and devising new strategies to ensure the future of the business but we are counting the days until we can have the team around us again.
It's going to be a tough 12 months ahead but at least we have a strong, resilient family around us……now armed with new skills……who will help take us to the next stage, whatever that might hold.
And I am delighted to say we have another key member of the team to introduce you to……..but that is for next time!
Judith Wilson
Events Director, Eventsbase